I'm tempted to say I started writing this post over Easter, because the question "who initiates sexual behaviour in relationships" seems like a chicken-and-egg-question. There are no easy answers. Of course, societal expectations and relationship habits imply that we cannot take whatever answers we find to mean that this translates to who wants (certain) sex (acts) more. And of course, none of this gets any easier given that in our dataset women reported their perceptions of both their partner and themselves—we did not hear from the partners.
But this is just a blog post, so I'll ask you to kindly keep these caveats in mind.
To look at who initiates sex more often, I'll restrict the diary dataset to the 628 women who filled out the diary on more than 30 days and who were in a heterosexual relationship. I'll also restrict it to days on which women had seen their partners at least briefly. We asked women in heterosexual relationships to endorse the following specific, awkwardly pointed statements. Because we were trying not to bore our participants out of their minds we only asked these questions on 30% of days. This still lets me examine 7303 days, with sexual activity on 3054 of those days.
My partner initiated sexual acts with me.
I initiated sexual acts with my partner.
Single women and women who had non-heterosexual relationships filled out detailed questions about their love lives as well, but we'll leave that for another day.
Women and men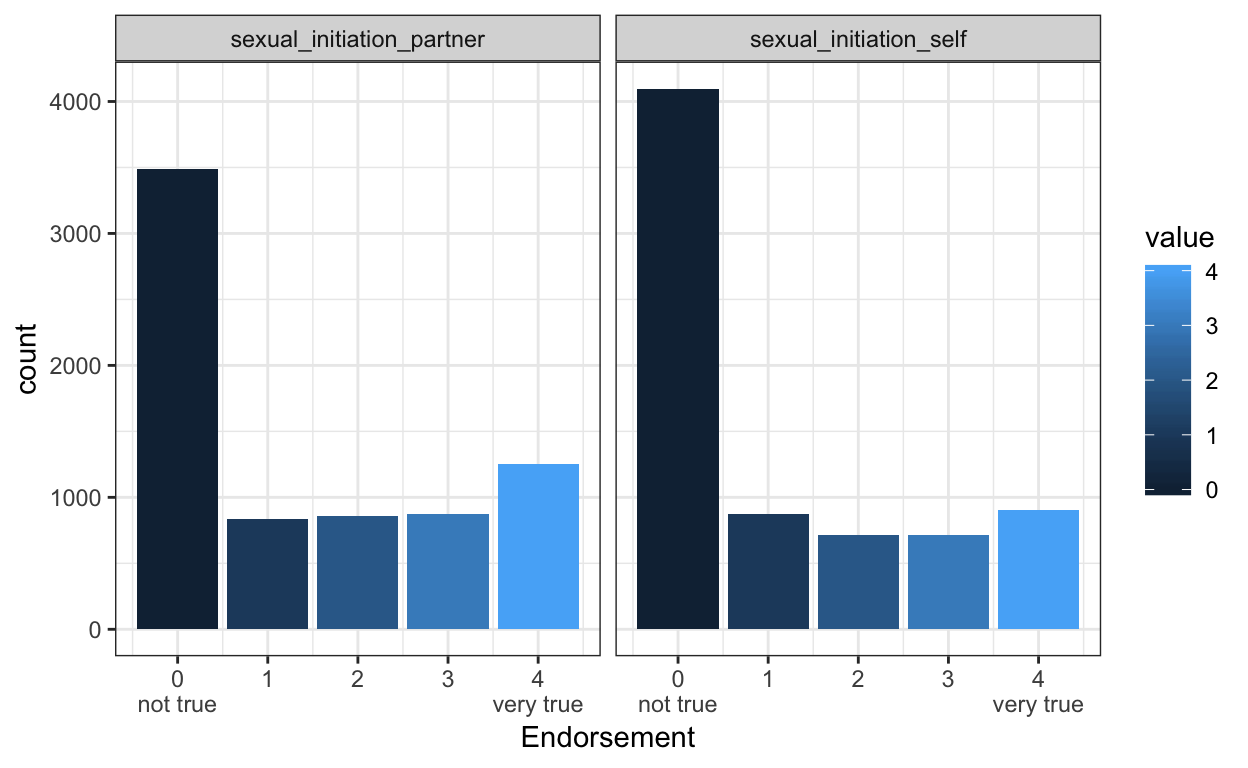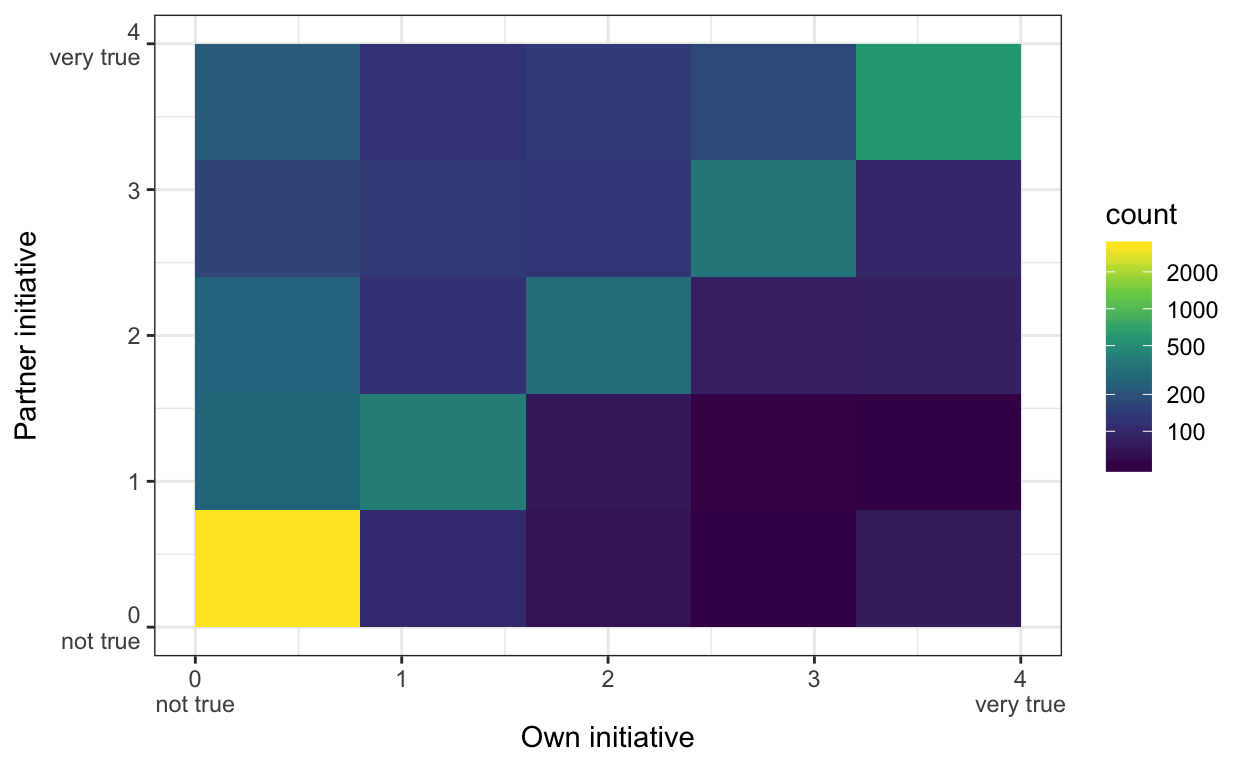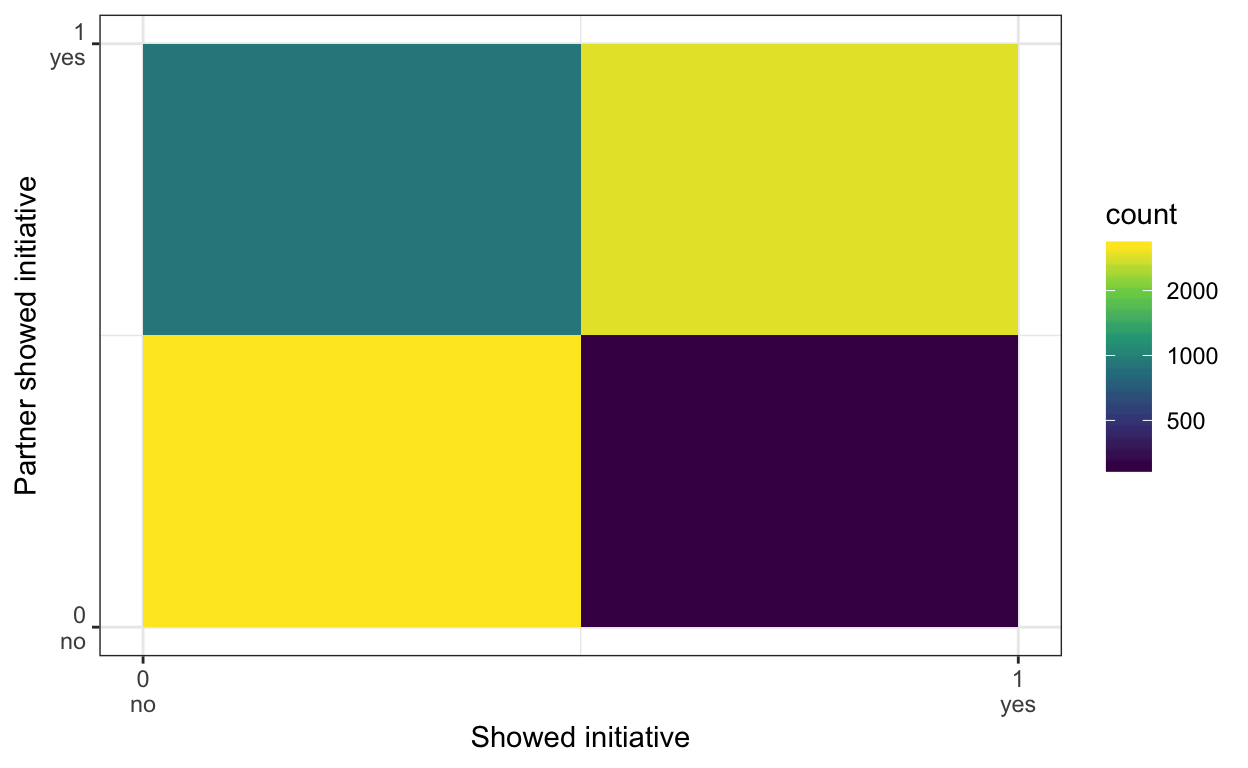 Individual differences

I don't want to neglect individual differences, but visualising them well is hard! Therefore, I hid these attempts here.

Table 1:

We can look at the five women those whose initiative exceeded their partners' most, and those five women whose initiative was lower than their partners most often.

| | | | | |
| --- | --- | --- | --- | --- |
| 7 | 0 | 7 | 14 | 1 |
| 7 | 0 | 5 | 19 | 2 |
| 7 | 6 | 10 | 11 | 4 |
| 20 | 2 | 7 | 17 | 12 |
| 6 | 7 | 2 | 14 | 2 |
| 11 | 13 | 4 | 6 | 4 |
| 9 | 14 | 0 | 7 | 3 |
| 3 | 11 | 1 | 10 | 3 |
| 5 | 24 | 0 | 2 | 1 |
By time
In the last post, we looked at sexual activity across the day and week. So, you have some idea when sex happens. But who initiates sex on these days? Unsurprsingly, it seems both (or more in some cases) parties are initiating sex more on the weekend.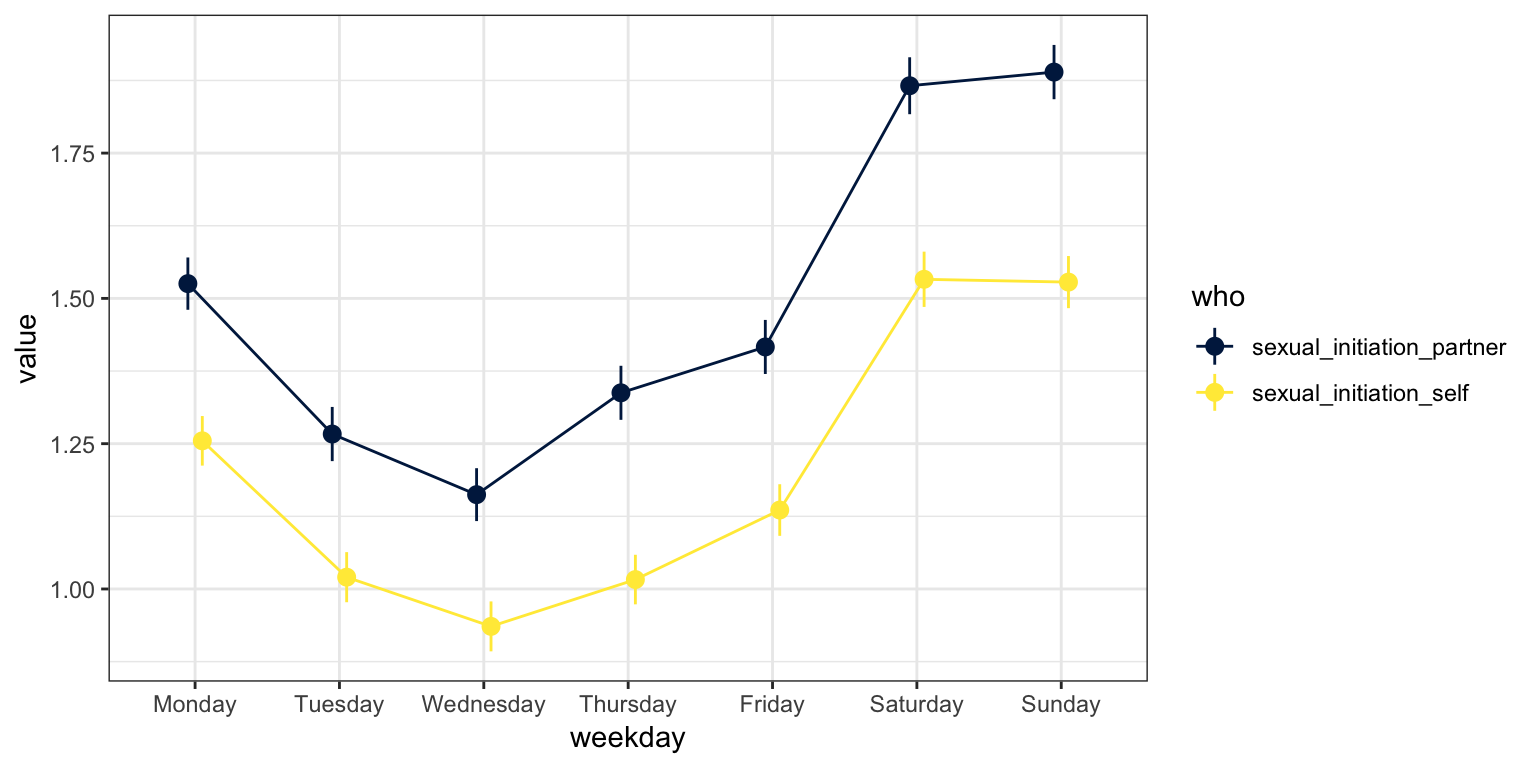 A different look at the same data
What about time of day? In the last post we saw that women reported slightly lower enjoyment for morning sex on average. Here, we see a corresponding gap in initiation. However, we also see a gap for daytime sex and we saw no enjoyment gap there. I'm very interested in your theories (or literature) why these gaps turn out differently.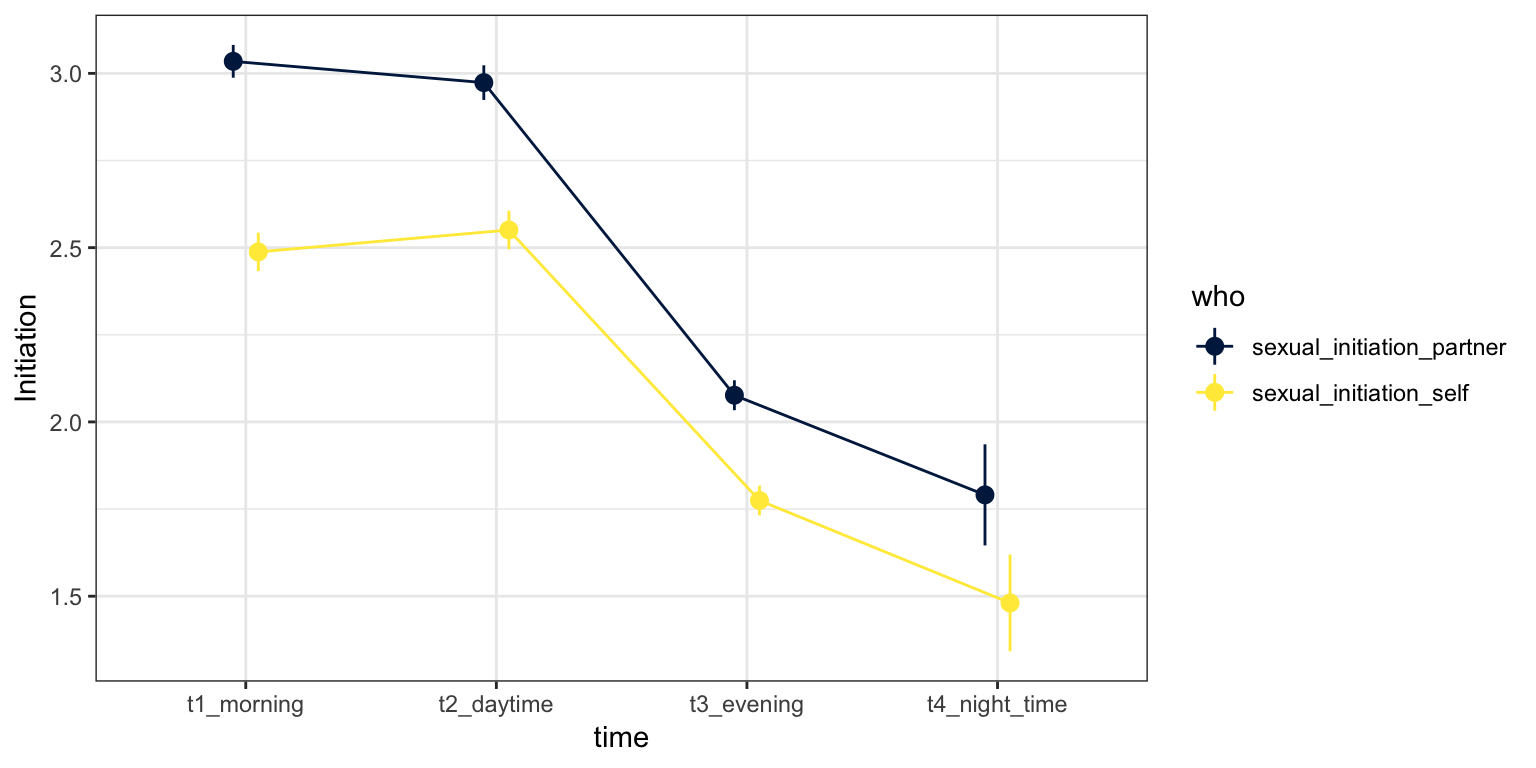 A different look at the same data
Who initiates which acts?
Now, we did not ask for each sexual act who initiated it. That kind of play-by-play just did not seem like a reasonable thing to ask. Still, it might be fun to look at the initiation on each day by the kind of sex people had on that day.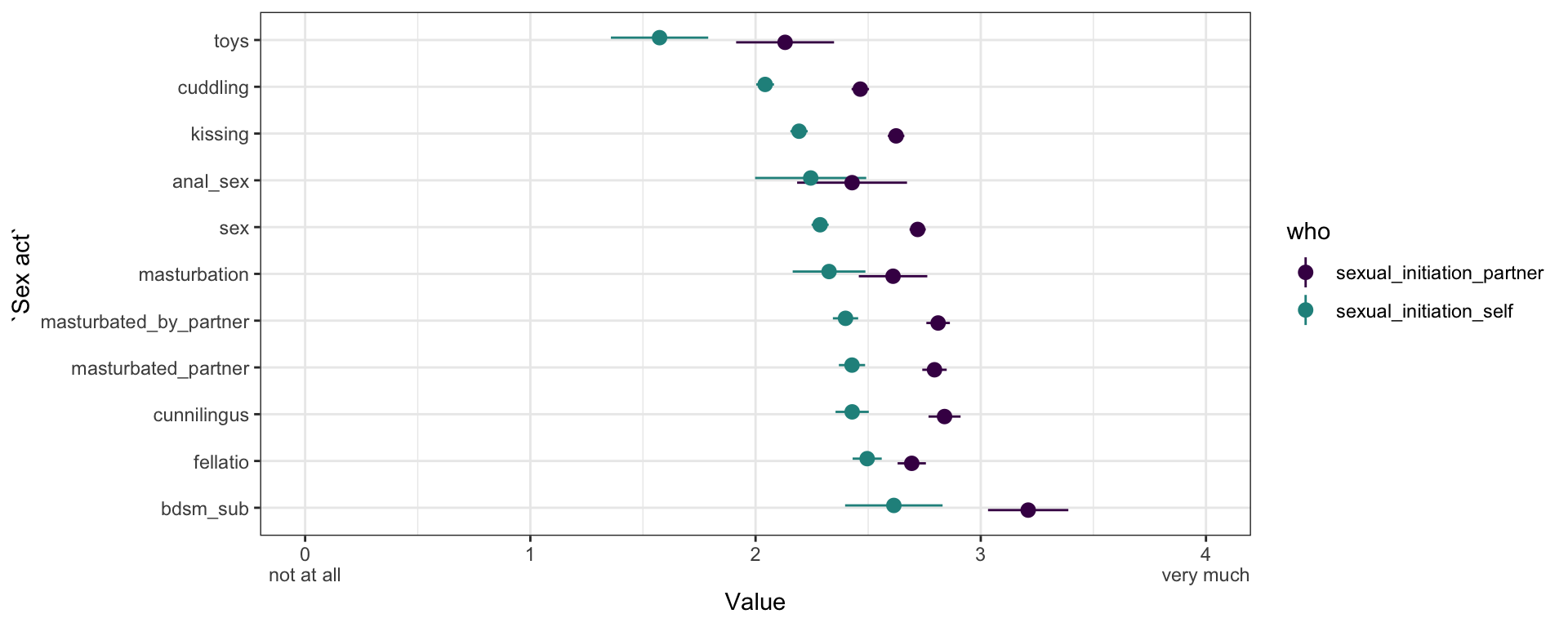 Now, looking at raw means ignores that certain sex acts are more likely to be performed in the evenings or on weekends and that they co-occur. We already saw these factors have something to do with initiation as well. I'm not sure what the best model is to take all this into account. I'm happy for better suggestions!
Some activities trade ranks, but fellatio and BDSM (submissive) stay at the top. Fellatio is the only act where we see almost no gap in initiation.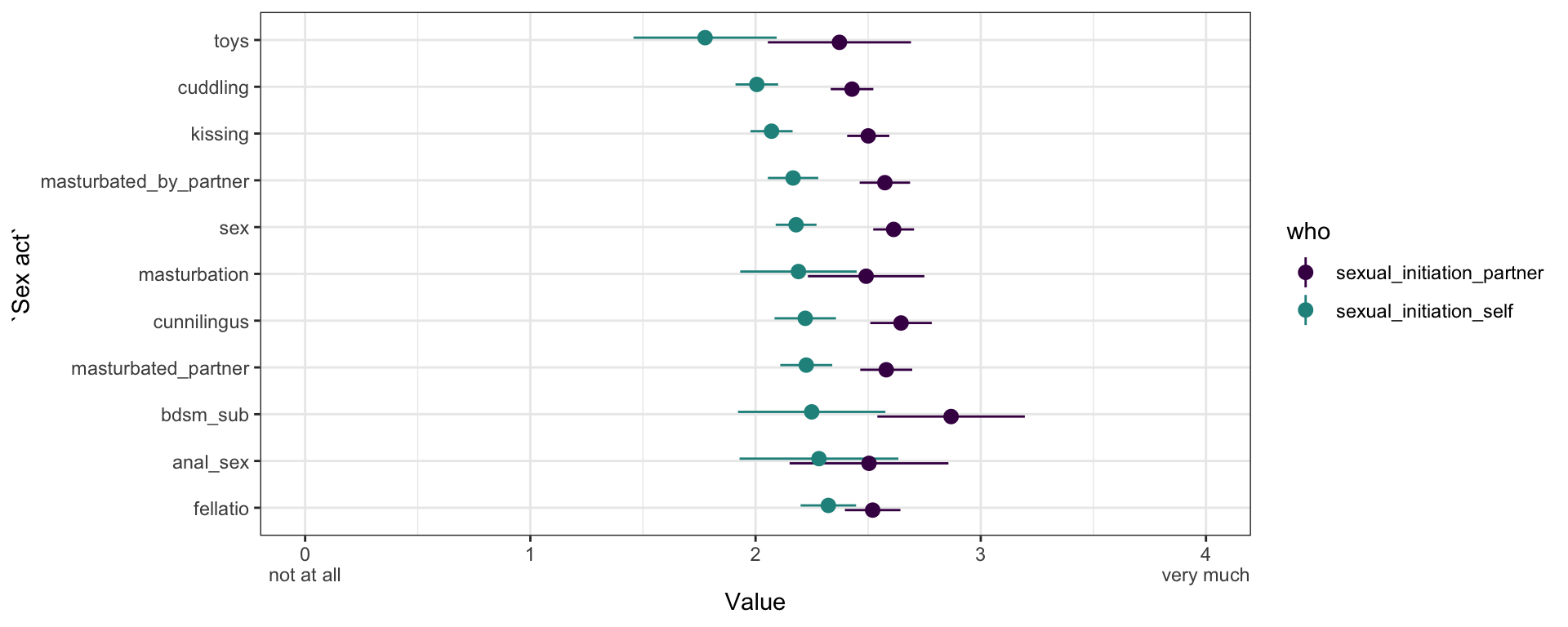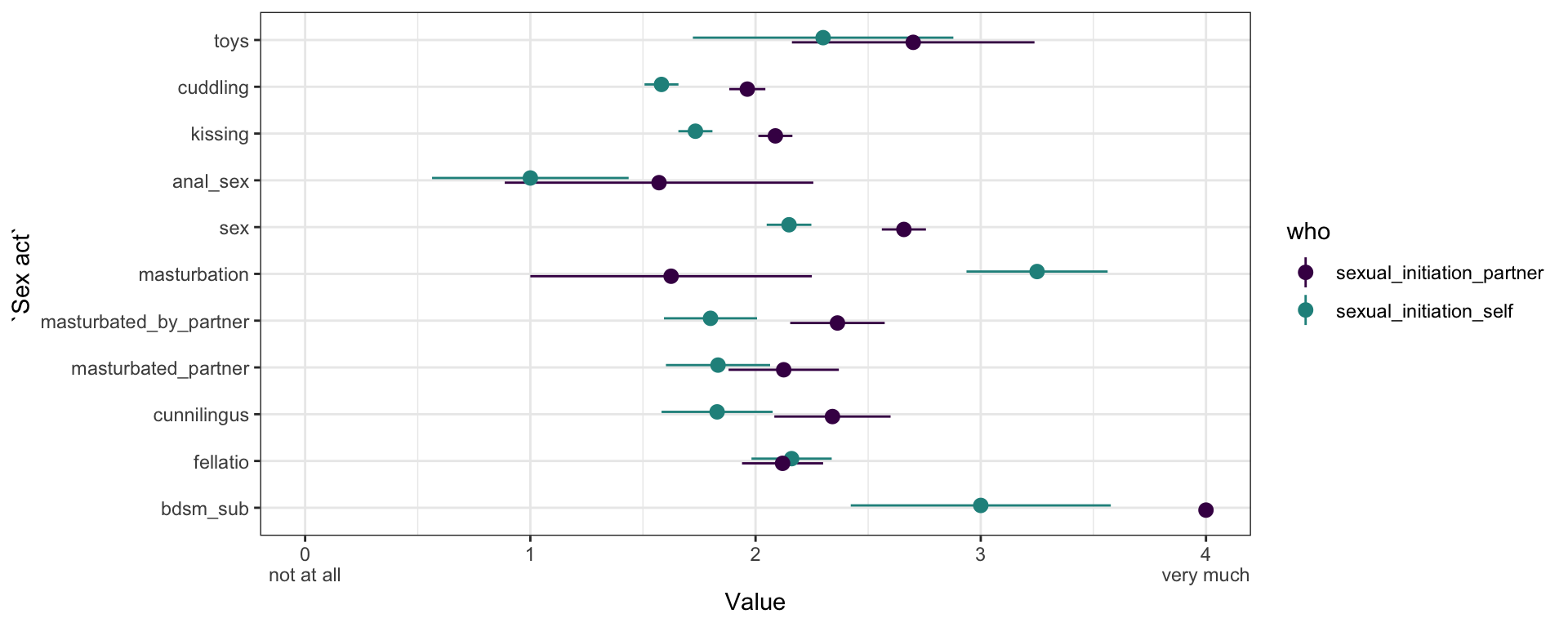 So, this is a first look at the question who initiates (what kind of) sex. I had a busy week, so this is just quick and dirty. I plan to analyse sexual initiation across the menstrual cycle at some point, so it was good to do some sanity checks with this data.
Self-reported initiation—not total nonsense, maybe?
Part of the reason for doing this blog post was seeing whether the items we used give reasonable results. I did not want to bore you with these sanity checks, but I'm also not good at deleting graphs either.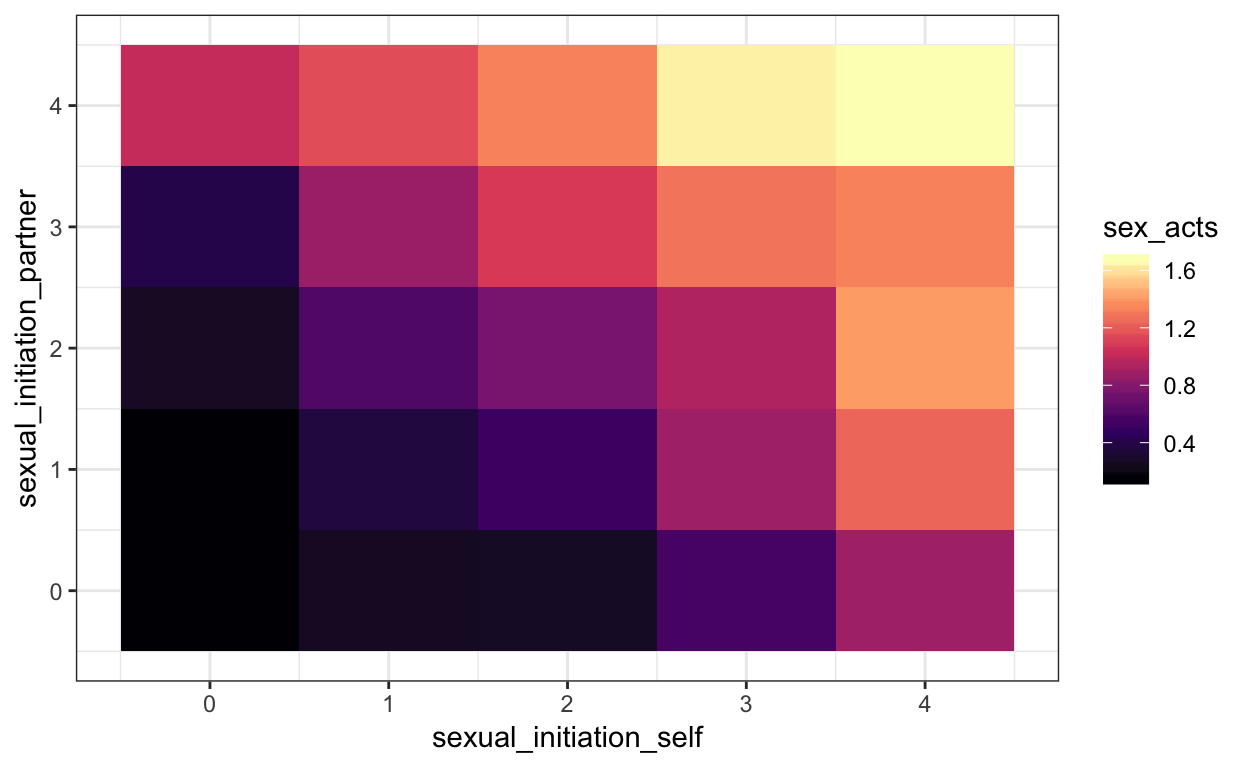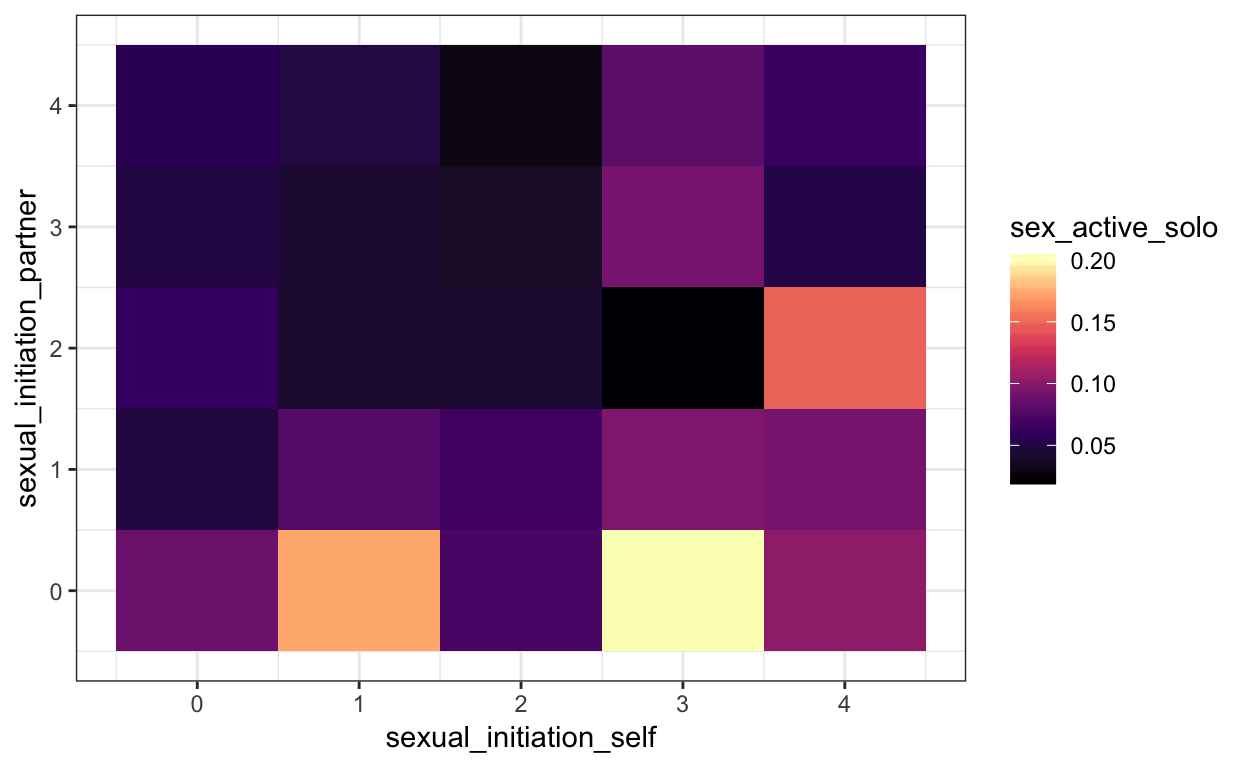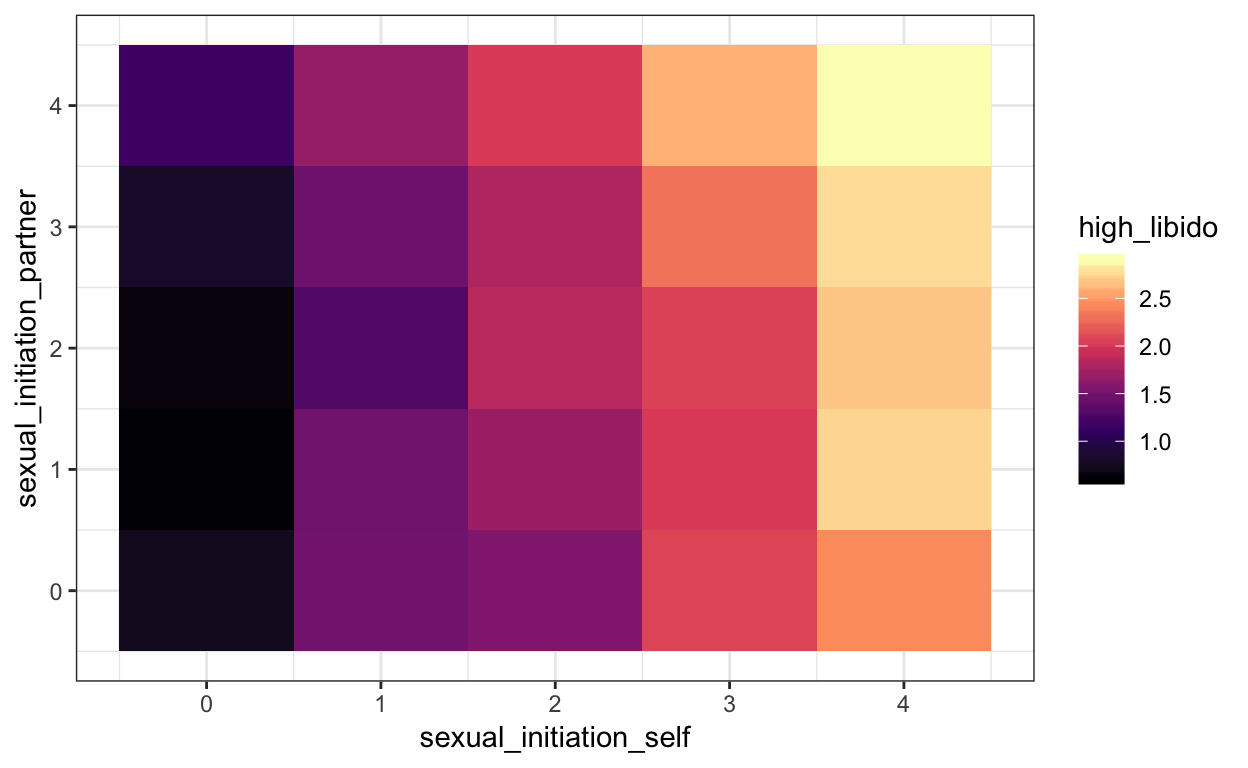 # A tibble: 2 x 2
  who                       `cor(value, high_libido)`
  <chr>                                         <dbl>
1 sexual_initiation_partner                     0.453
2 sexual_initiation_self                        0.609